ELECTRONIC PRESS KIT
1. Promotional Bio
2. Technical Specifications
2a. Stage Plot Attached
3. Downloadable Posters/Promo Pics
4. Reviews and Quotes
------------------------------------------------------------------------------------------------------------------------
The Ewe with the Crooked Horn is the new CD (2010) of Irish Traditional music by Colm Gannon, Jesse Smith and John Blake featuring accordion, fiddle and flute with guitar and piano accompaniment.
Colm Gannon (accordion) and Jesse Smith (fiddle) began playing music together in their teenage years. Following their first encounter in New York, in 1993, they were given the opportunity to play with friend and fiddle player Tina Lech at the prestigious Wolf Trap Folk Festival in D.C. In 1998 Jesse and Colm moved to Ennis, Co. Clare where they met John Blake (flute, guitar, and piano). They have been playing music together and also in various combinations of groups and bands since then and The Ewe with the Crooked Horn is their first collaborative recording.
Colm Gannon was born and grew up in Dorchester, Boston, Massachusetts of Connemara parents, his father John, from Droim and his mother Gerry from Tuirin. He learned to play music from his father and brother Sean, both excellent stylists on button accordion. Colm went on to win the esteemed All Ireland Champion title in 1994. After living in Ennis, Co. Clare for a couple of years, where he enjoyed listening to and playing music there, he joined Riverdance with which he toured for four years. He has also toured the states with the renowned Sligo based band Dervish and played with Dolly Parton in Dollywood while performing with the show Ragus. Colm has taught at many of Irelands most recognized summer and winter festivals including The Willie Clancy, and Frankie Kennedy schools. He's appeared on numerous television shows including Nation Wide, the BBC's Blas Ceol, and a number of TG4 programs. For the last few years he has lived in his father's home place Droim which features in the title of his solo album Return to Droim (2005) with guests John Carty (banjo), Jesse Smith (fiddle) and John Blake (piano, guitar and bouzouki). This CD is considered by many enthusiasts to be one of the finest accordion albums available.
Fiddle player, Jesse was born into a musical family. His mother Donna Long has recorded and performed with, most notably, Brendan Mulvihill and the American-based band, Cherish the Ladies. His dad John sings and plays the guitar. Jesse grew up immersed in the Irish music tradition having spent his childhood surrounded by many of the great Irish American musicians. He started learning the fiddle at age twelve from Mulvihill. He moved to Ireland in 1998 and has since toured with the band Danu for three years, recording two CDs with them, and receiving an award from the BBC in 2001. He has recorded one CD with The Tap Room Trio, and appeared as a guest musician on albums by Harry Bradley, Cherish the Ladies, Colm Gannon, Alan Kelly, Sharon Shannon, Enda Scahill, Tim Dennehy and Donna Long. His well received 2002 solo recording entitled Jigs and Reels appeared in Earle Hitchner's Top Ten Albums of the Year column in US paper, The Irish Echo. He teaches at many of the Irish music summer schools and is an annual teacher at the Willie Clancy summer school. Television appearances include Geantrai, The Raw Bar, and the RTE program The Reel Deal. Most recently he has received a Master of Arts degree from Dundalk Institute of Technology for his research thesis on Sligo's Michael Coleman, which he plans to publish in the near future.
London born John Blake began learning music at an early age from Galway fiddler Brendan Mulkere. John has lived in Ireland since 1998 where he has made a name for himself as a great and versatile musician. He has toured with some of Irish music's most celebrated musicians including James Kelly and Noel Hill, and was a member of the well known band Teada. He has been involved in recording, producing and playing on nearly thirty recordings in the last ten years with musicians such as Brian Rooney, Peter and Angelina Carberry, P.J. Crotty, James Cullinan, John Carty, and Harry Bradley. Along with Lamond Gillespie and Mick Leahy, he has recorded two albums -Traditional Irish Music from London and Humours of Highgate both of which have wonderfully captured the spirit of Irish music from London.
------------------------------------------------------------------------------------------------------------------------
John Blake Needs:
One SM 58 for flute/talking
Two Di Boxes for piano/Guitar
One Microphone stand
One Monitor
Jesse Smith Needs:
One SM 58
One Microphone stand
One Monitor
Colm Gannon Needs:
One SM 58 for right hand side of Accordion
One SM 57 for Left hand/Bass hand of Accordion
Two Microphone stands
One Monitor
We will supply none of the cables and need All Monitors with Individual mixes
------------------------------------------------------------------------------------------------------------------------
:: Click on the Stage Plan image below to download higher resolution Stage Plan ::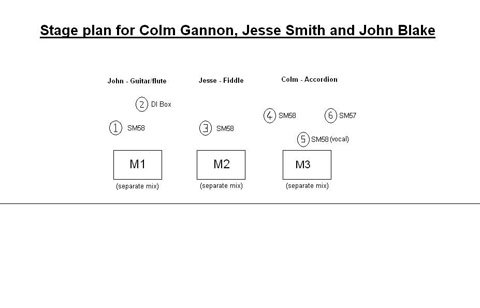 ------------------------------------------------------------------------------------------------------------------------
Downloadable Posters/Promo Pics
:: Click on the Poster below to download higher resolution version of the Poster ::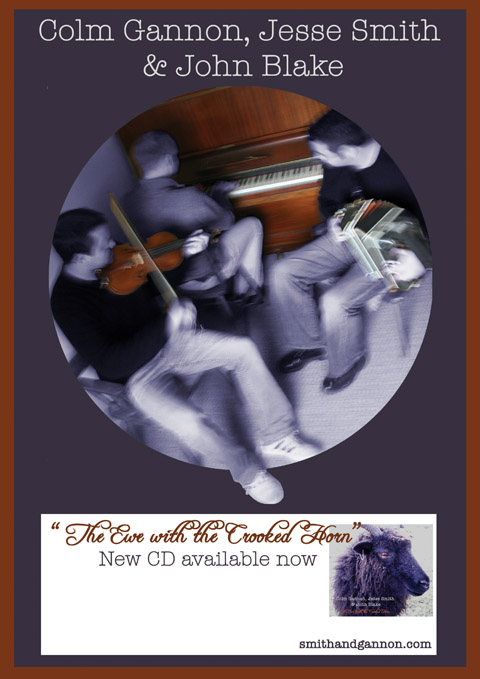 :: Click on the Photos below to download higher resolution Promotional Photos ::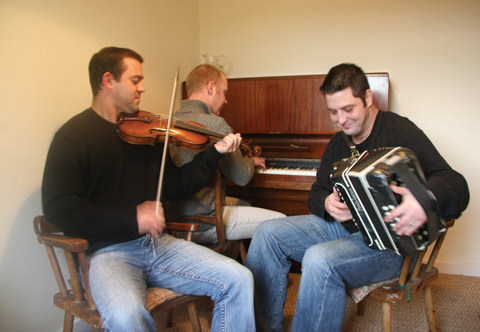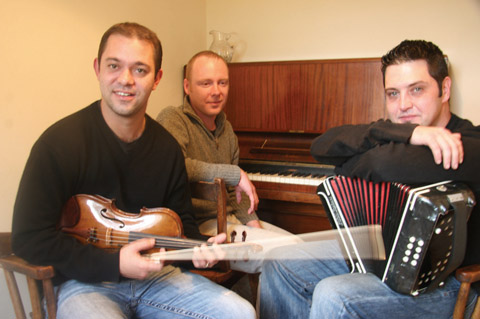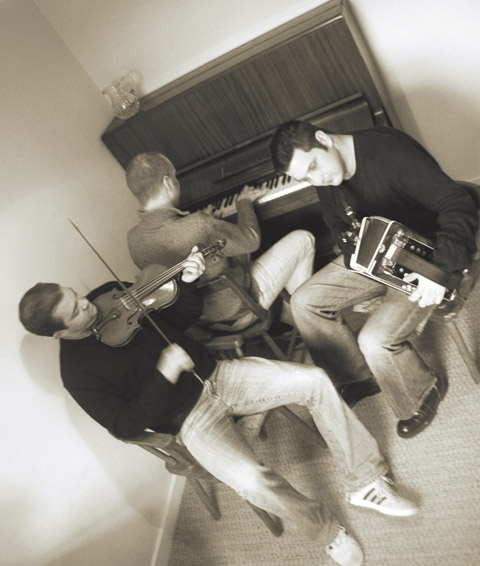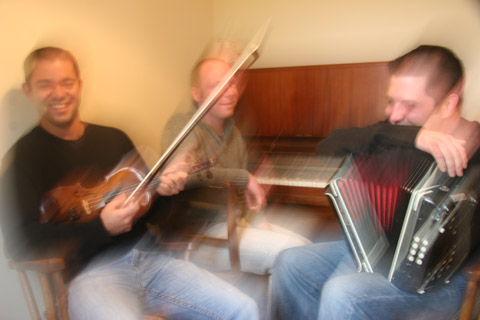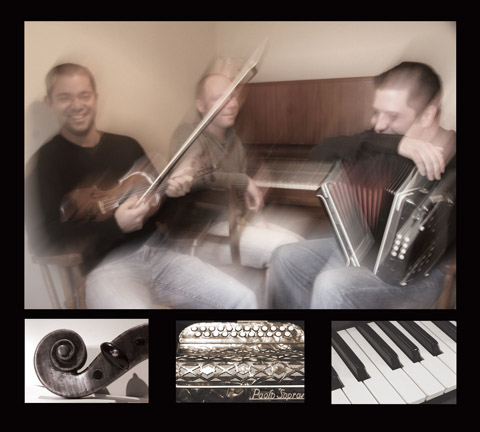 ------------------------------------------------------------------------------------------------------------------------
Pay The Reckoning: Reviews
Colm Gannon, Jesse Smith and John Blake – The Ewe With The Crooked Horn (JCB01, 2010)
Ah! Sleevenotes! Before this fine new collection of tunes from Colm Gannon, Jesse Smith and John Blake made it to the CD player, my appetite was whetted by the discussion of the sources via which they'd come by their material. Players from the 'Golden Age' of the 20s and 30s are namechecked time and again. The influence of these old masters continues to be felt; however unlike, say, David Munnelly or At The Racket to name just two, whose homages to the golden era are quite literal (and there's damn all wrong with that!), Gannon, Smith and Blake use their sources as foundations on which they layer their own powerful, passionate and utterly sensitive approach to the tunes.
Indeed, power, passion and sensitivity are the watchwords on this album. Gannon's ornate, yet driving box dovetails beautifully with Smith's fiddling which is at once intricate and immediate. As you'd expect, John Blake provides the usual rock-steady accompaniment on guitar and piano. When he picks up the flute, from time to time, we're reminded that Blake is as handy with the melody as with backing.
Mighty tunes, mightily played, abound. From the opening reel – McGreevey's, an unusual but contagious version of the popular Speed The Plough – through to the closing Down Through The Broom, taking in jigs, reels, flings and hornpipes en route, this is a musical tour de force not to be missed.
As they close their sleeve notes, the lads say "Hope you enjoy". Well, there's one wish that has certainly come true.
For more information please go to http://www.smithandgannon.com (at the time of writing the site is not yet fully up and running, but keep an eye out for "go live").
Track listing:
McGreevey's (Speed The Plough)/The Silvermines
Jim Donoghue's Jig/Gan Ainm/The Wearied Lad
The Honeymoon Reel/The Connemara Stockings
I'm A Man In Myself Like Oliver's Bull/Drimroe Cross
O'Keeffe's/Boy On The Hilltop
I Rambled Once/I'm Content With My Lot
Old Stack Of Wheat/Johnny Will You Marry Me?
Dunboyne Straw Plaiters/Wheels Of The World
The Four Courts
The Mouse In The Cupboard/The Lark On The Strand
The London Lasses/The Burnt Cabbage
The Ewe With The Crooked Horn/Pol Ha'penny
Strike The Gay Harp/My Former Wife
Give Us Another/The Stone In The Field
The Kesh/Richard Dwyer's Jig
The Killavil Reel/Down Through The Broom
February 2010
Copyright, Aidan Crossey 2010
------------------------------------------------------------------------------------------------------------------------
Newry Reporter Thursday, 4th March, 2010
Ewe Love Trad
Good quality Irish Traditional Music releases are thankfully readily available these days. Great ones are rare and, The Ewe with the Crooked Horn, is one of them. Three gifted musicians, Colm Gannon, Jesse Smith and John Blake have already secured distinctions in the higher echelons of traditional musicians. Smith and Gannon were born into the rarefied, purest environment of Irish American music, while Blake's original influences were originally nurtured in London, a city which did so much to cultivate our music and musicians at a time when it was all under threat back in Ireland.
This recording draws heavily on old manuscripts and 78 recordings, which had been faithfully studied and judiciously selected by these musicians. The comprehensive sleeve notes locate each tune with some of the great masters of bygone eras. While there are some easily recognised old favourites here, there's also a heavy sprinkling of gems that most musicians may never have heard. That makes it a treasure trove. The beauty of the album is the immersion of musicians, instruments and tunes to produce music that just gets better on each listening. There is no noise here, just fiddle, accordian and flute, wrapped in a light coating of tasteful piano and guitar.
Visit http://www.myspace.com/jessesmithandcolmgannon, sample a few of the tracks (the incredible version of the Kesh Jig is worth it alone) and see if you can resist buying it.
------------------------------------------------------------------------------------------------------------------------
GANNON, SMITH & BLAKE
The Ewe with the Crooked Horn
Own Label JCB01
www.smithandgannon.com
16 tracks, 51 minutes
American born and bred, now living in Ireland, Colm Gannon and Jesse Smith were reared on the Irish music of Boston and Chicago but they also bring the wider musical awareness of the modern generation to bear on this CD. Not that there's any dilution or compromise of the pure drop here: this is old style music, played by musicians who are familiar with modern artists from Moving Hearts to Martin Hayes, and who still stick with the Irish American classics of a century ago, adding a contemporary touch here and there. Colm's button box and Jesse's fiddle are backed by John Blake on guitar and piano: John learnt his music in the broad church of the 1980's London scene, and can turn his hand to most accompaniment styles, as well as firing up the old flute for a few tunes.
The sleeve notes read like a who's who of Irish music. Give us Another is credited to John McFadden, My Former Wife to piper Bernard Delaney, and many tunes were learnt from the almost holy trinity of Coleman, Morrison and Killoran who recorded in America in the early twentieth century. Whilst this collection concentrates on reels and jigs, there is a set of sweetly turned hornpipes including the title tune, and two track of flings: The Old Stack of Wheat, Johnny Will You Marry Me, and The Four Courts which comes from Frank Quinn's eccentric version. As Tommy Keane puts it, "the myriad of sources quoted by them for the music they have presented on this recording indicates a common and original journey of searching, listening and learning", in other words, Colm and Jesse have certainly done their homework!
Speed the Plough, The Connemara Stockings, Drimroe Cross, The Boy on the Hilltop, Dunboyne Straw Plaiters, The Killavil Reel: old recordings are re-awakened on this CD, some from long deep slumbers. The only two recent compositions here are Burnt Cabbage and Richard Dwyer's Jig, both with an old-fashioned dark side to their minor melodies. Apart from one or two solos, box and fiddle duet throughout and at times their tightness and empathy is outstanding. The melody constantly demands your attention, and its raw intensity can be quite overpowering, John Blake's accompaniment always keeps a respectful distance and concentrates on enhancing the tunes, perfectly fulfilling its side of the Irish musical bargain.
On this evidence, old style Irish music is alive and well on both shores of the Atlantic, at least in the hands of Gannon and Smith.
Alex Monaghan
Irish Music Magazine
------------------------------------------------------------------------------------------------------------------------
Also, visit our MySpace and Facebook pages and leave a comment! Thanks.